H. Shan Wirt

Associate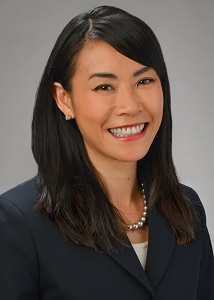 ---
 Areas of Practice:
Education:
J.D., University of Hawaii - William S. Richardson School of Law, 2006

Asian-Pacific Law & Policy Journal, Editor-in-Chief 2005-06
American Bar Association Client Counseling Competition, Two-term member 2004-06
Phi Delta Phi, Board member 2003-06
CALI Excellence for the Future Award for Debtor & Creditor Rights 
Lawrence C. Foster Endowment Fund Scholarship 
Gregory Conlan Memorial Prize 

B.A. with distinction, University of Hawaii at Manoa, 1999
H. Shan Wirt, an associate with Ashford & Wriston, was admitted to the Hawaii bar in 2006 and joined the firm in 2016.
Raised in Honolulu, Shan is a graduate of the William S. Richardson School of Law.  Her practice focuses on civil and commercial dispute resolution and litigation, including real property, corporate and contract issues.  She is licensed to practice before all courts in the State of Hawaii and the United States District Court for the District of Hawaii.
Professional Experience:
Shan's roots are in strategic communications and advocacy. Most recently, Shan was the Marketing Communications Group & Program Risk Manager for Hawaii Energy, which is Hawaii, Honolulu and Maui counties' ratepayer-funded energy conservation and efficiency program as third-party administered by Leidos (a FORTUNE 500) under contract with the Hawaii Public Utilities Commission. Hawaii Energy was honored in 2016 by Environmental Leader with a "Top Project of the Year" award. The program's $37 million+ annual budget served a majority of the State's population (approximately 360,000 households and 60,000 businesses).
While at Hawaii Energy, Shan managed day-to-day and longer term risks across dozens of multidisciplinary, newly developed and continuously refined programs and offerings. In a rapidly evolving energy landscape and regulatory framework, she led strategic identification and analysis, as well as value-added resolution/mitigation, of a wide range of complex operational and administrative issues in collaboration with the rest of the leadership team, operational groups and corporate resources to ensure compliance with legal and contractual obligations and to maximize consistency, efficiency and goal achievement (i.e., energy savings specified by contract). Shan also spearheaded and developed risk management training for staff to assist with identification and handling of issues to mitigate risk and improve processes. Additionally, she oversaw the ongoing development and annual update of program policies and procedures.
Moreover, Shan provided strategic direction to the program's marketing communications team and subcontractors in the program's development and execution of an effective and cost-efficient integrated marketing communications plan, which leveraged public relations, advertising, social media, web, program positioning and community and energy industry outreach. She also led the program's issues and crisis communications management to ensure timely, consistent and fair handling, as well as the promotion of goodwill with a wide range of stakeholders.
Prior to her energy work, Shan practiced at two Honolulu law firms: Starn O'Toole Marcus & Fisher and Kessner Duca Umebayashi Bain & Matsunaga. She focused on complex commercial and civil litigation, as well as insurance defense. Shan provided counsel to clients ranging from FORTUNE 500 companies to local businesses in matters involving business law, contract, corporate governance, real property, intellectual property, trust administration and tort issues.
Before practicing law, Shan worked for one of the state's largest public relations firms, as well as a well-regarded boutique firm, specializing in media relations and integrated marketing communications for the tourism and hospitality industry.
Professional Activities:
In 2017, Shan was appointed by the Hawaii Supreme Court as a Trustee of the Lawyers' Fund for Client Protection. The Fund was established in 1981 as the last resort for clients who have lost money, property or items of value as a result of dishonest conduct by their attorney. The Fund is financed by annual fees paid by all Hawaii attorneys who handle client funds.
Since 2010, Shan has served on the Board of Directors of Hawaii Women Lawyers ("HWL"), which is a 501(c)(6) nonprofit organization with 400+ female and male attorneys committed to improving the lives and careers of women attorneys, influencing the future of the legal profession, enhancing the status of women and promoting equal opportunities for all. Most recently, Shan served as HWL President for 2016 - 17.  HWL organizes, participates and supports activities and projects including legislative advocacy, gender equity in judicial appointments and career development, as well as health and welfare matters affecting the community.
Currently, Shan is on the Board of Directors for Hawaii Women's Legal Foundation, which is a 501(c)(3) nonprofit organization focused on women's issues and solutions that empower women in Hawaii. She served as the 2017 Silent Auction Co-Chair for its annual fundraiser.  Proceeds allow the organization to make grants to various local entities that help women and children in need.  
Over the years, Shan has served as Vice-Chair and Secretary of the Hawaii State Bar Association's Litigation Section.  In 2010, she was selected as a Fellow of the Hawaii State Bar Association Leadership Institute. 
While in law school, she was Editor-in-Chief of the Asian-Pacific Law & Policy Journal, as well as a two-term member of the American Bar Association Client Counseling Competition team.
Reported Case:
Haldeman v. Golden, No. 05-00810 DAE-KSC, 2008 U.S. Dist. LEXIS 35326 (D. Haw. Apr. 29, 2008)
Kersh v. Manulife Financial Corp., 792 F. Supp. 2d 1111 (2011)
Moskowitz v. Am. Sav. Bank, F.S.B., No. 17-00299 HG-KSC, 2017 U.S. Dist. LEXIS 211537 (D. Haw. Dec. 26, 2017)
Community Activities:
Last year, Shan joined the Board of Windward Spouse Abuse Shelter, which is a 501(c)(3) offering emergency shelter and transitional housing and services to domestic violence victims and their children by provide a path to independence.
Shan is also involved with a number of other local community organizations, including Child & Family Service and Big Brothers Big Sisters Hawaii.  Over the years she has served as Silent Auction Co-Chair of the Iolani Alumni Association's "Touch of Iolani" fundraising event, as well as Vice-Chair of the Guild, which supports Child & Family Service as the State's oldest and most comprehensive, private human services provider.