Rosie Y. Brady

Associate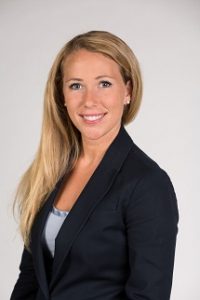 ---
 Areas of Practice:
Education:
J.D., Santa Clara University, School of Law, 2015
B.A. University of California, San Diego, 2009

Cum laude
Member of Phi Beta Kappa honor society
Rosie Y. Brady counsels clients with matters related to all aspects of estate planning, trust administration, and probate. She advises clients on business succession planning and asset protection to ensure each client's legacy goals are accomplished. In addition to working with individuals creating estate plans, she also assists beneficiaries and trustees to ensure an efficient transition of assets and to limit liability exposure during the process. Rosie assists clients with contested will and trust matters, and utilizes those experiences to prepare more effective planning documents to avoid controversies during the estate administration phase.
Before joining Ashford & Wriston, Rosie practiced law at a mid-size law firm in Menlo Park, California for several years where she counseled high net worth clients on estate planning and trust administration matters. This included preparing revocable living trusts, generation skipping trusts, charitable remainder trusts, dynasty trusts, grantor retained annuity trusts, and irrevocable life insurance trusts. She also created multiple private family foundations in California and Delaware, prepared the IRS Form 1023 tax exempt applications, and provided ongoing advice to family foundations on IRS compliance to ensure maximization of the charitable goals. Rosie also prepared and filed multiple gift and estate tax returns.
During law school, Rosie participated in the State of California Franchise Tax Board appeals clinic and argued several successful appeals for small businesses. She focused her studies on tax law, and took several tax classes after law school through the Boston University LLM in Taxation on-line program.
Rosie is licensed in the State of California and is in good standing (California Bar Number 309566). She is NOT licensed to practice in Hawaii, but all Hawaii related work product and advice prepared by Rosie is reviewed by a supervising attorney who is licensed in the State of Hawaii. Rosie will take the July 2019 bar exam to become licensed in the State of Hawaii.
Professional Activities:
Rosie is an avid surfer and has a passion for environmental causes. During law school, in addition to her work in tax, she worked as a legal intern for the National Oceanic and Atmospheric Administration (NOAA), the Surfrider Foundation, and the California Coastal Commission. Charitable giving is the inspiration for Rosie's interest in estate planning, and assisting client's accomplish their charitable goals, especially for environmental causes, is her favorite part of practicing law.