Ashford & Wriston was recognized by the Hawaii State Legislature for the firm's professional accomplishments and community spirit. The certificate applauds Ashford & Wriston's diverse practice with an emphasis in real property law and civil litigation, and the firm's responsiveness to the call to action for law firms to actively encourage and support pro bono legal assistance by the attorneys.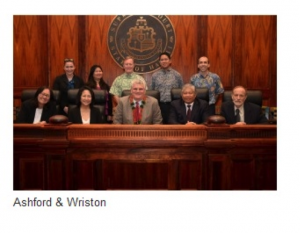 From http://www.hawaiijustice.org/hawaii-access-to-justice-commission/news-and-information/striving-to-meet-rule-6-1/page/3
Ashford & Wriston
Ashford & Wriston's commitment to providing pro bono services to the community stretches back to its founding in 1955. In 2009, the firm decided to reaffirm its commitment to serving the community and the bar by pledging that each of its attorneys will devote at least 50 hours per year to pro bono services. For the firm as a whole, this commitment will result in a donation of time and effort valued in excess of $250,000 per year. Ashford & Wriston is pleased to endorse the Access to Justice Program and to make a difference in our community.