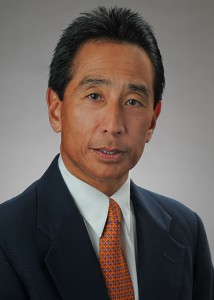 ---
 Areas of Practice:
 Emphasizing:
Commercial Development
Industrial Development
Land Use and Zoning
Residential Development
Environmental and Administrative Law
Natural Resources Law
Education:
J.D., Georgetown University Law Center, 1978
PhD. in International Management, University of Hawaii, 2008
M.B.A., emphasis in finance, University of Hawaii, 1975
B.S. in Mechanical Engineering, University of Washington, 1972
Professional Certification, Jazz Guitar, Berklee College of Music, 2012
Benjamin A. Kudo joined the firm as counsel in July 2012. Prior to joining Ashford & Wriston, Mr. Kudo was a founding principal of another law firm in Honolulu.
Mr. Kudo specializes in land use, planning, zoning, natural resources, and real estate development, and has vast experience working with developers and land owners on a variety of issues. He has handled major resort, golf course, commercial, industrial, and residential developments throughout Hawaii, representing clients locally, from around the nation, and internationally from the Pacific-Asia region. Mr. Kudo's experience includes:
Assisting developers and land owners with commercial real estate development projects
Assisting clients with the permitting, zoning, and administrative process, including administrative contested cases and judicial appeals
Assisting private, government agencies and legislative bodies with laws and bills affecting land use, natural resources (i.e., water rights, etc.) and administrative law
Professional Affiliations:
Mr. Kudo is a member of the Hawai`i State Bar Association. He is also a member of the American Bar Association, and is active in its sections on Real Property and Municipal and Local Governments. In addition, Mr. Kudo is a member of the American Society of Mechanical Engineers, the American Planning Association, and Lamba Alpha International.
Professional Activities:
In addition to his law practice, Mr. Kudo was an Adjunct Professor of Law at The William S. Richardson School of Law teaching in the area of real property, land use and water law from 1990 to 2000. He was also a past lecturer in business law at the University of Hawaii West Oahu, and labor law at the Shidler School of Management. In 1994, Mr. Kudo was honored by the establishment of the Benjamin A. Kudo, Chair of Law (designated in the areas of land use, environmental and administrative law) at The William S. Richardson School of Law, University of Hawaii.
Mr. Kudo has also published numerous articles, including:
"NUKOLII: Private Development Rights and the Public Interest," The Urban Lawyer, Vol. 16, No. 2, 1984
"Paying for Growth in Hawaii," Land Use Research Foundation of Hawaii, 1988 (co-author)
"Technical Paper on the Implementation of Hawaiian Water Rights," Land Use Research Foundation of Hawaii, 1994
"Hawaii's Land Tenure System: Its Impact on Residential Leasehold Estates," The Land Institute of Japan-National Land Agency, Tokyo, 1995
"China Hong Kong in Legal Transition," American Bar Association, 2000
Professional Recognition:
Mr. Kudo has received numerous professional honors and recognitions including recognition as one of the "Best Lawyers in Hawaii" by Honolulu Magazine in the areas of Land Use and Zoning Law, Litigation-Land Use & Zoning, and Real Estate Law. He has also been listed in Hawaii Super Lawyers and as one of the leading Real Estate Zoning/Land Use attorneys in Hawaii by Chambers USA. Mr. Kudo has also received the Martindale-Hubbell "AV" rating.
Community Activities:
In 2012, Mr. Kudo was appointed to an at-large seat with the University of Hawaii Board of Regents by Governor Neil Abercrombie and served as its Chair from 2018-2020. He was also a director on the board of the Hawaii Visitors & Convention Bureau, and the East-West Center Foundation and currently is a director for the Rehabilitation Hospital of the Pacific. In addition, Mr. Kudo currently serves as general counsel to the Japanese American Citizens League, Hawaii Chapter.